Application
Removal of high to very high concentrations of various volatile compounds in a rather small gas flow:

volatile nitrogen compounds (NH3, amines,…)

epoxides (ethylene oxide, propylene oxide,…

volatile sulphur compounds (H2S, mercaptans,...)

organic and inorganic acids (acetic acid, hydrogen chloride, …)

halogenated compounds (bromine, chloromethane,…)
Principle
Liquid circulation over a stricture in the ejector causes an underpressure (Bernoulli effect) that aspires the waste gas to the scrubber and mixes the waste gas intensively with the circulating scrubbing liquid.
Depending on the target pollutants, the scrubber can be operated in an acid, caustic, solvent, oxidative or reductive way and can handle gas concentrations up to 100%. Next to gases, also small amounts of fluids can be aspired towards the scrubber.
When the correct scrubbing liquid is used, very high (> 99%) removal efficiencies can be obtained. A check valve is provided at the suction side of the ejectors. As a result of this, the gases from the headspace of the ejector scrubber are recycled over the ejector when the gas input is lower than the design gas flow, yielding an even higher efficiency.
Due to the rather high required liquid to gas circulation flow, this scrubber technique is mainly suited to treat relatively small gas flows (4 - 40 m3/h), as e.g. for the emptying of gas cylinders or for making flexibles/gas pipes free of gas. This type of scrubber is e.g. typically used at cylinder filling stations for specialty gases.
If required, the scrubber can be equipped for emptying gas cylinders up to 200 bar till nearly vacuum (90 mbar). Depending on the number of ejectors on the scrubber, up to 10 cylinders can be handled simultaneously and can be emptied till nearly vacuum, independently from the other connected cylinders.
Scheme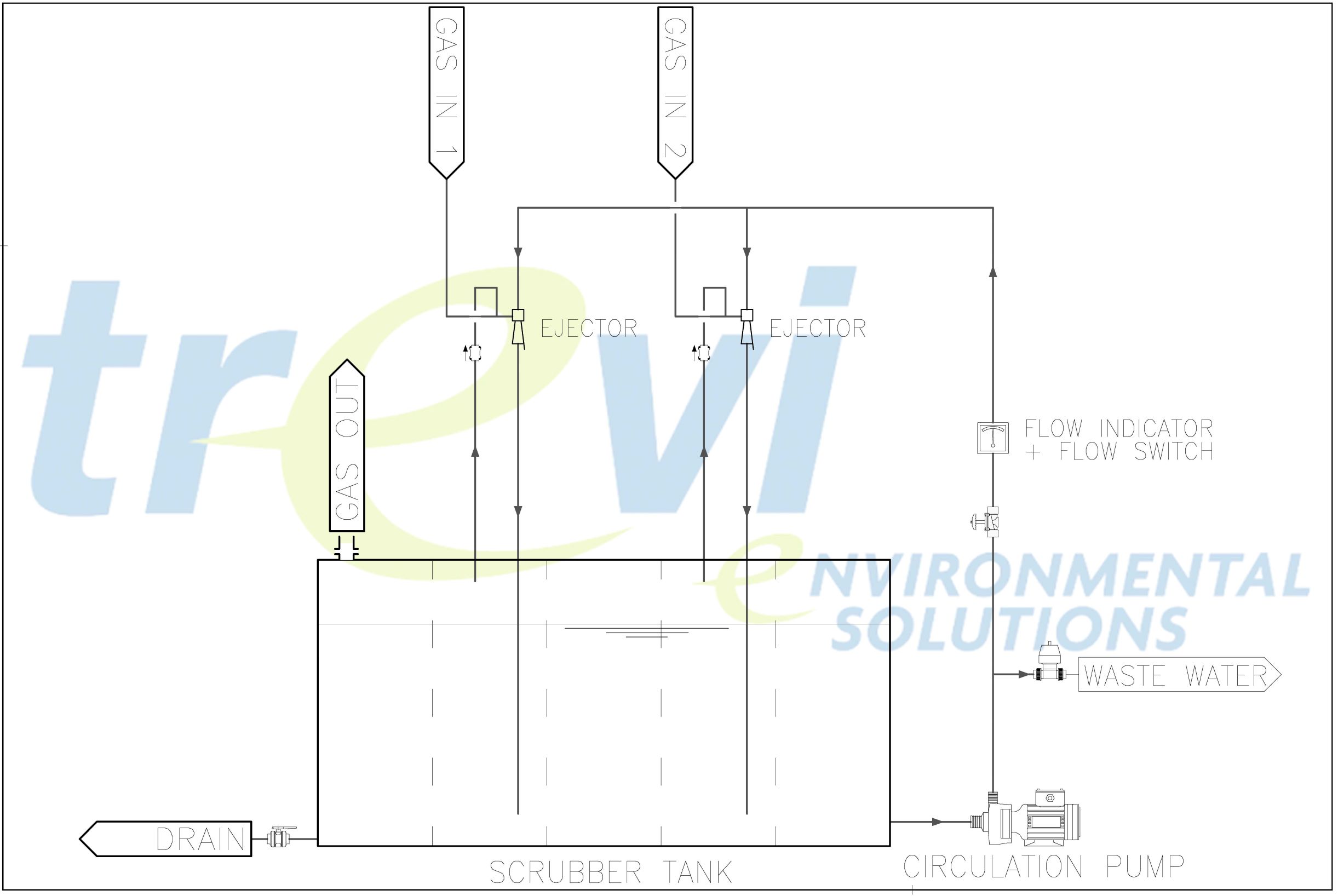 Realisations